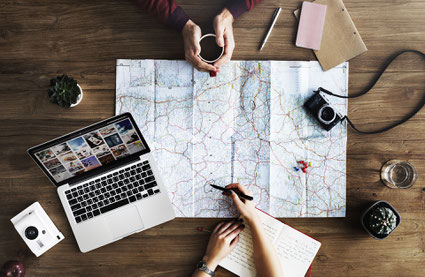 When searching for the next holiday destination, the digital giants are of course best to land with you. More and more research and bookings take place online, but many travel providers rely on an ineffective online presence.
The search for a hotel room is complicated
The search for the next destination has become complicated. The average customer looks for 36 days with 45 approach places in the Internet for its perfect travel provider. To select the ideal vacation goal is a heavy decision, but also the provider carries a debt to the fact that the search is so complicated.
Meanwhile, 31% of hotel bookings start with an online search (8% increase compared to 2017), with most of these taking place in a comparison portal on the net. Especially important is the destination country, which is important for the traveller far ahead of airlines and hotels - after all, the customer wants to collect experiences first and foremost and not frequent flyer miles and loyalty points.
It is interesting to note that the greater the selection of offers presented to customers, the less incentive they have to buy. Instead of tailored proposals, the customer is overwhelmed with generic offers, so that they postpone the purchase decision and conversions decrease.
Key Points::
Hotels and travel providers must improve the functionality and service of their own online presence.
Packages should only be used sparingly, the aim being specific offers that meet the needs of the customer.
The online presence should sell less and invite more to a personal consultation where specific offers can be made.
Which end devices are used and why is this important?
The use of mobile devices is increasing - no surprise. But online purchases are mainly made on a desktop (just 25% of purchases are made mobile, although mobile use already accounts for 63% of sessions).
Customers rarely rely on hotel apps for booking, and the hotel's online websites are more attractive. In addition, many customers have a feeling of security when they make a booking from home - with their desktop - on a hotel page. This feeling is missing with a hotel app.
Key Points:
The hotel's online channels must be maintained and updated, but hotel apps should not have priority.
Websites should be responsive in order to be usable via mobile devices as well
Are brands still important for the customer?
Bookings via comparison portals clearly exceed direct bookings in hotels and airlines. When you book a flight, customers look less and less for a particular airline - only 42% of customers (compared to 53% in the previous year) book only with a particular airline.
In the hotel industry, however, another trend is emerging: 42% of customers were looking for a particular hotel in 2018 (compared to 34% in the previous year).
Customers are even prepared to pay a little more if they receive more service at the hotel, which is rarely the case with airlines.
Key Points:
For hotels the own brand becomes more important, for airlines less
More service and added value are, for loyal customers, a good argument for conversion
Airlines, on the other hand, also benefit from offering lower service offers to customers looking for low-cost flights.