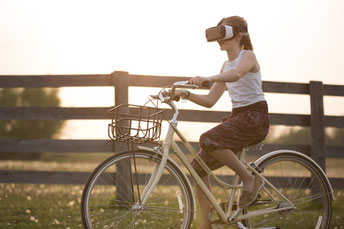 The advancements in science and technology are leaving us spellbound with each passing day. New and better games have started coming up. Not only that, technology is being used to improve and better our daily lives too. 
Most people are aware of the three types of realities: virtual, augmented, and mixed. Currently, augmented reality is being put to use for a number of useful reasons. Read on to know understand what tech-augmented reality is, and how has it started influencing lives for the better. 
Understanding Tech-Augmented Reality
In simple words, augmented reality is a version that combines reality with a virtual experience. Of late, the smartphone game, Pokémon Go, was an overnight hit. This game is a pure and perfect example of augmented reality.
You see an object or a person in the forefront while you have your real life scenario in the backdrop. You need to have a device like a smartphone or a tablet with a camera to be able to view tech-augmented reality images and experience their presence. 
With this technology, you can navigate your way around new cities as well. Just point your camera at the surrounding you are in and it will show you points of interest and other places which deserve a visit in your vicinity. 
Recently, many hotels have started using this technology in order to up their performance and provide their guests the best time of their lives staying in the hotel.
What can one expect of a Tech-Augmented Hotel?
The use of augmented reality in a hotel goes a long way in improving its experience and developing a fascination for the same. Some of the things you can expect are listed below:
Better understanding of the hotel
With tech-augmented reality in hotels, customers can help themselves without the aid of the hotel staff. They can easily navigate through the ins and outs of the system and find their way to wherever they need to go while being independent and not having to wait in lines to get information or break though language barriers. Shy people that do not like to ask around (like myself) will also have access to more information.
This is a far better method for customers to guide themselves since it is less likely to make errors and is available all the time at your fingertips. In addition to that, one can even gather information about the kind of food served, the type of pool, its variations, libraries, and all other interesting options there may be to explore at the hotel.
Amazing hotel room experience
An example of an augmented reality experience could be the virtual presence of celebrities and other influencers in these rooms. They are designed in such a way that they look extremely natural and real. This draws people to these hotels so that they are able to live a real-like experience with their favourite celebrities and click a picture or two alongside them. This may give you your much-awaited picture with your favourite star or inspiration, but is nothing like the experience that you'd go through when meeting them personally.  
Gamification
Though this aspect is not yet the norm currently, it is on its way to becoming one. This involves the hotel giving its own version of augmented gamification. Pokémon Go was a major hit as an augmented reality game, and hotels which offer similar experiences also do allow their guests such games to pass their time. 
So, if you are intending to go stay in a hotel of this sort, you may be given access to such a game exclusive to that hotel itself. But it is best to keep your expectations low because augmented reality is still not at its peak of perfection yet.
Chatbots
Say you are staying at a hotel which offers tech-augmented reality to its guests. And you need help from one of the hotel staffs. Guess what? You wouldn't need a live person to help you out here. Chatbots are available all across the pace. 
They can chat with you and answer all your questions and sort your problems out. They can guide and help you solve your queries. This is one of the many different and amazing experiences you can have at a tech-augmented hotel. 
How could it influence the popularity of the hotel?
Any hotel willing to take its guests' experience a notch higher, it needs to offer something that no other hotel does, and augmented reality works wonders in this case.
A tech-augmented reality is not yet common and hence, hotels which provide this luxury are more likely to attract customers and scale better heights in terms of their business. Here are some reasons how a tech-augmented reality influences the status of its hotel in the market.
A new experience
Most people are willing to give a new form of hospitality a shot.  People are looking forward to experiencing the much-talked-about tech-augmented reality and how it feels to be living it around inside the hotel. 
It is this attraction alone that is sufficient to draw people to the respective hotel. Currently, tech-augmented hotels are quite rare. So, this reason will last only until they become a norm. 
Hotel bookings
Chatbots directly affect the hotel bookings. According to a hotel owner in Germany, travellers have started using Online Traveling Agency Sites as a search engine for landing the best hotels. They then go on to book these hotels offline. Artificial Intelligence plays a major role in directing such potential customers so that they directly land on the hotel website.  
Convenience during stay
With augmented reality, one does not need to depend on the hotel staff for petty issues. They can show themselves around the place without having a physical person to guide them 
Just pointing your cell phone camera to a place will show you spots of recreation in the hotel. For example, you can find your way to the hotel's pool or gym independently and easily, all thanks to augmented reality.  
What are the challenges going ahead?
Every beneficial aspect comes with its own challenges and differences. The same is with augmented reality too. Although it has innumerable benefits, it has certain drawbacks too. 
Lack of precision
Augmented reality still has a long way to go before it attains perfection. With virtual reality, almost near-perfection has been attained, even though it is still improving each day. But augmented reality is a little fragile in this regard. 
Even a slight hand movement while viewing an augmented reality scenario tends to disrupt the entire scene and spoils the overall experience. 
Less human interaction
More dependency on augmented reality is synonymous with lesser and lesser human interaction. Although it is a big advantage in a sort of way, it also leads to more reliability on artificial intelligence and means also loss of the personal touch while providing a service. This is most likely to raise plenty of other issues in the not-so-distant future and surely will cause a opposite trend of "Real Only" hotels. 
Conclusion
True that augmented reality does have a long way to go as far as its precision is concerned, but this does not mean that it is incapable right now. 
Augmented reality has brought about plenty of different things and experiences which only seemed a distant possibility until a decade ago. And hotel experiences are only one such example. 
After the hype passed and the trends settles, true AR-content will surely be able to enhance a visit to a hotel while not removing the human touch to the industry. 
---
Next I will post a more comprehensive list of where and how hotels can augment the guest experience.